The 5 Most Relatable Bridesmaids Quotes!
It may be four years old, but Bridesmaids is still one of the most popular chick flicks around. Who is who in your hen party group?!
Bringing together some of the most popular female actors including Kristen Wiig, Melissa McCarthy, Rose Byrne, Maya Rudolph and many more, we see the story of a competition between the maid of honour and a bridesmaid to see who is the bride's best friend, which threatens to turn the whole hen party into total chaos!
Whether you've booked your hen do yet or not, or even if your hen party is now a distant memory, you'll love our look at the most relatable lines from the film, that have had us howling with laughter over the last few years! Who are you most like?
1. Help me, I'm poor
We've all been there Annie! It's like a whole week after pay day and we've had three (totally necessary) nights out, and bought all the foods!  How does anybody expect to be able to pay our bills?!
2. I'm glad he's single because I'm going to climb that like a tree.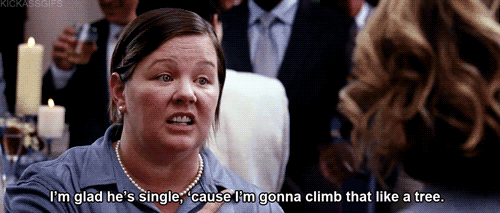 Your friend's spotted him! That tall, dark and handsome man across the room. Mission 'find out if he's single' has started! When someone finds out he is, then the cheesy lines and the giggles start, there's no hope for him now!
3. Oh yeah? Did he sleepover in your mouth?
She spent all night flirting and dancing with that one guy in the bar, then turns up to breakfast an hour late looking like she's barely slept a wink, but "nothing happened"! You've known each other since you were in nappies, you're not that stupid!
4. You're really doing it aren't ya? You're shitting in the street!
Ok, so you might not have seen your girlfriends do a Paula Radcliffe in the road, but we all have that one friend who will do what everyone else thought to be impossible, and you will not believe your eyes.
5. Carol, get your shit together Carol!
She may not be called Carol and you may not be playing tennis, but she's there somewhere in the group making mistakes which at that very moment are life changing! Dammit woman, pull yourself together!
Want to avoid disasters and dramas on your hen party?
We can help! We have a great bunch of hen party planning experts who will help you plan the whole hen party to ensure it runs as smoothly as possible!
Have a browse through our great choice of activities for hen parties in superb locations across the country.
If you can't find what you're looking for, just give us a call on 01253 807111 or drop us a message online and we'll help create your dream hen party that will give the film Bridesmaids a run for their money!